TJB Environmental Services related pest control services
We offer a full range of other pest control services including;
Jet & Pressure Washing
We offer an affordable, efficient and reliable jet and pressure washing service in Essex, Cambridgeshire and surrounding areas.
We can wash surfaces such as driveways, patios, commercial buildings, roof tiles, car parks etc. If you are not sure whether we can wash your property, get in touch by calling us on 07490 718 518.
Our up-to-date modern equipment ensures that we remove as much dirt as possible, no matter the scale of the task.
We can work on residential, commercial and industrial sized properties.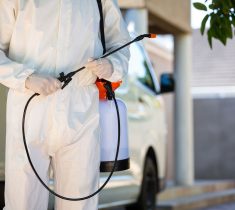 Disinfection
Are you faced with a harmful and hazardous environment that needs disinfecting?
We provide a reliable and efficient disinfection service that will ensure your situation is dealt with in a safe and discrete manner.
Our quick and reliable service also ensures that any downtime of your facility is kept to a minimum.
Feel free to get in touch for a free quote by calling us on 07490 718 518 or you can fill in the form below.
Domestic & Commercial Clearances
Our trusted clearance service makes your life easier for garden and home clearance. We can help you with residential and commercial clearances.
Dead Animal Removal
Coming across a dead animal can be distressing when found on your property and we can certainly help you.
If the animal is creating a very strong smell, we can conduct a deodorising treatment that will get rid of any nasty odour lingering in your property.
The most common dead animal removals we come across are dead rat removals, dead cat removals and dead fox removals.